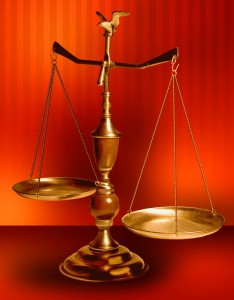 Two Sided Struggle
There are those who seem to live in constant struggle. They're confident of the coming victory God has in store for them, so they keep fighting, pushing and struggling toward it. There are others who quietly wait  for God to move. They surrender themselves fully to His will and purpose for their lives, seeming to continually wait in quietness and trust.
As I survey my life, I see both quietness and confidence existing. Usually though, I live in one or the other. But I am realizing that I can both live in confidence of the victory Christ has won and at the same time be journeying to full surrender.
Bob Sorge in The Fire of Delayed Answers expresses this idea as he questions those who seem to exist at both extremes. He explains that there are those who stress that "God is more interested in your character than in your miracle" and at the same time others who say, "He's my Savior, my healer, my deliverer, my provider, my protector, my supply, my, my, my…. [producing] a self-absorbed focus."
Instead, Sorge says, both can exist together, that we can "become more Christlike in our attitudes and also experience the power of His resurrection."
Surviving Times of War
The development and also true test of this balance comes both through the trials we experience as we live out life this side of Heaven and the more severe times of testing through crisis. Sorge expresses the sentiment this way…
Times of war are the proving ground for faith. In My Utmost for His Highest
, Oswald Chambers deepens this idea of our faith being proven in battle along with truly understanding that our battle is ultimately our own. Chambers says…
War and Relationships
Our goal is to live lives that remain true to God's character no matter what. And since the majority of our struggles and victories involve other people, relationships provide the ultimate proving ground for our faith.
Yes, our quiet confidence comes from our individual relationship with God. And yes, we are responsible for our own activity and not that of anyone else. Yet, at the same time, we struggle together even while we struggle alone. We gain victory together while we gain individual victory.
Because relationship play such an integral role in our faith walk, we're detailing in on relationships during the month of February. To begin, let's discuss how finding an individual balance with quietness and confidence help strengthen relationships. Please leave your thoughts in the comments.
This post is a part of a weekly book discussion of The Fire of Delayed Answers by Bob Sorge hosted by Jason Stasyszen of Connecting to Impact and Sarah Salter of Living Between the Lines. Be sure to check out their posts!